Warranty And Your RV
Having a warranty on your RV gives you peace-of-mind for your new RV. But when you do need to use your warranty, it can be difficult to navigate the claim and repair process. Let Bish's RV help by taking care of the process and the repairs for you. We work with most RV manufacturers for warranty repair and know the ins and outs of the process. Here's some helpful tips on how the warranty process works within the RV industry.
With most RVs, the warranty period is for one year. The warranty process requires the dealership to communicate the required repair details to the manufacturer. Once the manufacturer authorizes the repairs, we can begin those repairs.
If a part is required to do the repairs, the manufacturer requires the dealership to obtain the part from the manufacturer. Nuts, bolts, screws, silicone, and other small "soft parts" are the exception. The average time to receive these parts from the manufacturer ranges from 1 to 6 weeks. We work as diligently as we can to secure the approval and the parts need for the repairs.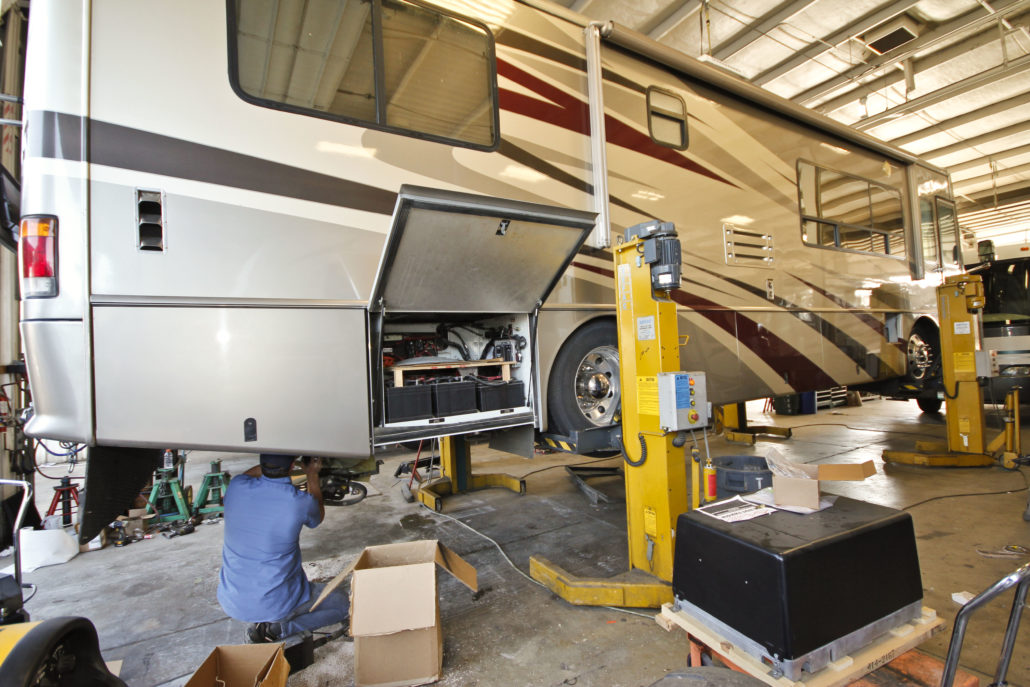 In a perfect world, we would provide appointments to customers whenever desired, year-round. In this seasonal business, reality is a little different. Depending on weather and economic conditions, our busy season is from March through October. During this season, lead-time for an appointment may be as much as 8 weeks. We are constantly hiring and training technicians to lessen this lead-time.
There are two different appointments you'll have. The drop-off appointment where we assess the repairs, providing you with a quote for the service work needed. Depending on the season and lead times, this appointment usually takes 2-5 days to complete. The second appointment happens only if the customer does not leave their RV with us and has to return it for repairs. For example, if the repairs needed on your RV are mostly cosmetic (a.k.a. repairs that do not keep you from using your RV), we always suggest customers keeping their RVs and using them while we wait for the parts needed. Once the parts arrive, we call and setup an appointment. If you have an emergency repair need, we will always work with you to get this repair done. We do honor our existing commitments to customers who have made appointments and are already here. Being kind and patient usually helps all parties in this situation.
If possible, scheduling repairs in the off-season benefits everyone. This is typically from November to February. It allows shorter lead-time for appointments and quicker turnaround for repairs. This keeps your RV out of our shop during the best camping weather, because the repairs were already done in the off-season! It also helps us provide full-time, year-round employment for our employees.
This information is intended to help you prevent common RV maintenance issues that are typically not covered by your factory warranty and can be expensive to repair. It is important that you retain this information and follow these recommendations every few months or before using your RV each season.
1) ROOF SEAL MAINTENANCE
This is the most important (and the most neglected) maintenance item every RV owner needs to be aware of. It is also the most damaging and expensive when not addressed. Manufacturers sometimes cover this under warranty only for the first 90 days of ownership. Be sure to inspect the roof seals every 90 days for cracks, lifting, and mildew build-up or ask us for a Free Roof Inspection.
2) BATTERIES GOING DEAD
Batteries that aren't performing well are usually a result of loose cable connections, low water levels or dirty terminals. To avoid this, keep the battery terminals clean and ensure that the cables are tightly connected to the battery terminals. Check water levels monthly and add distilled water as needed (AGM batteries do not need water). Always use the proper safety equipment recommended by the battery and RV Manufacturer. Keep the battery charged with a "Trickle Charger" if you are not regularly using your RV.
3) HOLDING TANK MONITORS AND BLACK VALVE DRIPPING
The stuff that goes into the black tank can cause monitor panels to register "still full" after dumping. The valve that holds it closed may also not seal well. Be sure to always use approved RV toilet paper which is made differently than regular toilet paper. Before a trip, put several gallons of water down the toilet with some tank additive mixed in. We suggest using "Happy Campers." Having this in the tank before using it will break down the contents from the toilet, and also reduce any odors.