Online Specials
List Price:

$17,999

Discount:

$3,000

Our Price:

$14,999

Get it before it is GONE!

List Price:

$22,999

Discount:

$7,000

Our Price:

$15,999

List Price:

$19,999

Discount:

$2,012

Our Price:

$17,987

DANGER: You might fall in love with this camper

List Price:

$24,999

Discount:

$7,000

Our Price:

$17,999

CAUTION: THIS RV IS TOO AFFORDABLE!

List Price:

$22,999

Discount:

$4,500

Our Price:

$18,499

EASY to TOW for FAMILY FUN! Convenient FINANCING!

List Price:

$23,999

Discount:

$5,012

Our Price:

$18,987

SMOKIN' DEAL!!

List Price:

$24,987

Discount:

$5,988

Our Price:

$18,999

MSRP:

$33,124

Save:

$13,125

Sale Price:

$19,999

EASY to TOW for FAMILY FUN! Convenient FINANCING!

List Price:

$24,999

Discount:

$5,000

Our Price:

$19,999

SPRINGdale INTO SAVINGS

List Price:

$27,999

Discount:

$7,098

Our Price:

$20,901

MSRP:

$34,323

Save:

$13,336

Sale Price:

$20,987

WALK-AROUND QUEEN

MSRP:

$35,067

Save:

$13,080

Sale Price:

$21,987

List Price:

$22,995

Discount:

$1,000

Our Price:

$21,995

List Price:

$23,999

Discount:

$2,000

Our Price:

$21,999

MSRP:

$38,654

Save:

$15,667

Sale Price:

$22,987

MURPHY BED SPECIAL!

List Price:

$25,999

Discount:

$3,012

Our Price:

$22,987

List Price:

$27,999

Discount:

$5,012

Our Price:

$22,987

List Price:

$26,999

Discount:

$4,012

Our Price:

$22,987

JUST ARRIVED!

List Price:

$26,999

Discount:

$4,012

Our Price:

$22,987

List Price:

$36,995

Discount:

$13,508

Our Price:

$23,487

List Price:

$34,995

Discount:

$11,508

Our Price:

$23,487

USED 2023 - PRICED TO SELL NOW!

List Price:

$31,999

Discount:

$8,512

Our Price:

$23,487

List Price:

$35,995

Discount:

$11,996

Our Price:

$23,999

BRING THIS HOME TONIGHT!!

MSRP:

$35,842

Save:

$10,843

Sale Price:

$24,999

KING BED UNDER $26K

List Price:

$28,999

Discount:

$4,000

Our Price:

$24,999

Bunk house

List Price:

$27,999

Discount:

$3,000

Our Price:

$24,999

DOUBLE SIZE BUNKS!

List Price:

$39,995

Discount:

$14,517

Our Price:

$25,478

DOUBLE SIZE BUNKS & OUTSIDE STORAGE!

List Price:

$32,995

Discount:

$7,197

Our Price:

$25,798

MSRP:

$36,788

Save:

$10,801

Sale Price:

$25,987

MSRP:

$40,606

Save:

$14,607

Sale Price:

$25,999

MSRP:

$40,606

Save:

$14,607

Sale Price:

$25,999

So much value!

MSRP:

$39,842

Save:

$13,843

Sale Price:

$25,999

List Price:

$29,995

Discount:

$3,507

Our Price:

$26,488

HUGE DISCOUNTS FOR A NEW 2024

MSRP:

$42,016

Save:

$15,217

Sale Price:

$26,799

Full Featured Fun!

MSRP:

$34,610

Save:

$7,623

Sale Price:

$26,987

2024 - HAS ALL THE GREAT FEATURES

MSRP:

$34,111

Save:

$7,124

Sale Price:

$26,987

Available now at Bish's RV in Junction City

List Price:

$29,999

Discount:

$3,012

Our Price:

$26,987

KING BED and KING SIZED SAVINGS!

List Price:

$34,999

Discount:

$8,000

Our Price:

$26,999

List Price:

$39,995

Discount:

$12,996

Our Price:

$26,999

Summer Sundance Sale! Over 25% Limited Inventory

MSRP:

$54,739

Save:

$27,052

Sale Price:

$27,687

MSRP:

$36,053

Save:

$8,066

Sale Price:

$27,987

QUEEN BED AND BUNKS!

MSRP:

$43,475

Save:

$15,476

Sale Price:

$27,999

AMAZING CONDITION! SAVE A TON ON THIS PREOWNED ONE!

List Price:

$43,999

Discount:

$16,000

Our Price:

$27,999

BEAUTIFUL AND CLEAN!

MSRP:

$36,669

Save:

$8,193

Sale Price:

$28,476

MSRP:

$40,696

Save:

$12,209

Sale Price:

$28,487

Great deal!

List Price:

$34,999

Discount:

$6,102

Our Price:

$28,897

EASY to TOW for FAMILY FUN! Convenient FINANCING!

MSRP:

$45,249

Save:

$16,262

Sale Price:

$28,987

Great deal!

List Price:

$32,999

Discount:

$4,012

Our Price:

$28,987

BEAUTIFUL AND CLEAN!

MSRP:

$37,938

Save:

$8,939

Sale Price:

$28,999
Guaranty RV is now Bish's RV!
How We Got Started
In 1966, Herb Nill established a Chevrolet-Pontiac-Oldsmobile dealership in Junction City, OR and coined the phrase, "Eggs are cheaper in the country, and so are cars and trucks." In 1977-78, Herb had the opportunity to expand his business with RVs. He was the first dealer to sell RVs with the Caribou Coach Corporation, now known as the Monaco Coach Corporation. He was a pioneer and continued to grow the RV side of his business by adding more vehicles, facilities, and employees to meet the rising demand.
In the mid-80s, Guaranty RV added a travel trailer and fifth wheel center. By the end of the 90s, Guaranty RV was easily the largest RV dealer in Oregon and one of the largest in the nation. In the 2000s, Guaranty RV continued to blaze a trail in the RV industry, gaining a loyal customer following, and being awarded by their manufacturers for their customer experience and satisfaction. On March 20, 2016, Herb Nill passed away, leaving his legacy in the capable hands of his family. With no third generation currently involved in the company, the Nill Family found another family-owned business that they trusted to keep their legacy going. On July 5, 2021, Guaranty RV joined the Bish's RV family.
Leland "Bish" Jenkins built his family business based on the principles of honesty, fair dealing, and treating customers right. Bish Jenkins and his family began their business in Eastern Idaho in the 1940s with the sale of livestock, and then expanded their business into clothing, saddles, tack, and horse trailers. In 1989, one of Bish's grandsons wanted to purchase an RV from a local dealer. He didn't like the price, and so he called the manufacturer and tried to buy one, but he needed to be a dealer in order to purchase directly from the manufacturer. So, he bought six of them, and thus, Bish's RV was born!
For over 30 years, Bish's RV has expanded from its original location in Idaho Falls, ID, to a thriving group of dealerships with locations across the United States. We're a different kind of RV dealership dedicated to helping families find the perfect RV to help them create memories that will last a lifetime, while also delivering exceptional customer service and treating each customer like family.
So, no matter where you live, no matter where you camp, no matter which highway you may travel, you are an important part of the Bish's RV family of satisfied customers. This is "Where Memories Begin!"
Customer Reviews
Bill & Janice Gilbert
Meridian, ID
"I just wanted to let you know my wife and I are very pleased to have met Mr. Dinko Bosnjak. He was a very nice salesman who was not pushy in his approach to selling us a trailer. He was informative and helpful all the way through the process."
Mike & Alaine
Ketchum, ID
"I was sold my first Bish's RV 9 years ago in Twin Falls by Troy. I am on my 4th RV from Bish's and would like to say thanks. Marc and the staff did a fantastic job helping my wife and I to find the exact unit that would work great. We love our Cougar. Also Ron again went way above to help us off to a great start. I know it is always easy to hear the bad but you need to hear the good that your people do. Hope to stop and say hi one day soon."
Don & Marguerite Brown
Idaho Falls, ID
"I would like to add to the testimonials how much I appreciate dealing with a business that is honest and excels in customer satisfaction. We recently had a few problems manifest that went back to when we bought our trailer. Bish's RV fixed the problems at no expense to use and treated us like are their customer. Thanks to Jeff and Kahn. We really appreciate dealing with you."
Read all Google reviews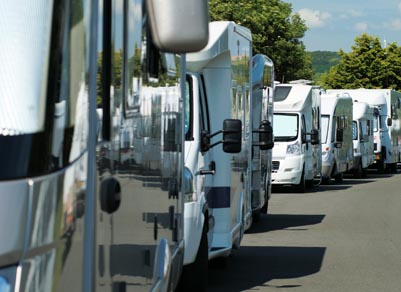 New & Used RVs
Whether you're looking for a new motorhome or a used travel trailer, we have a wide selection of inventory and brands to meet your needs.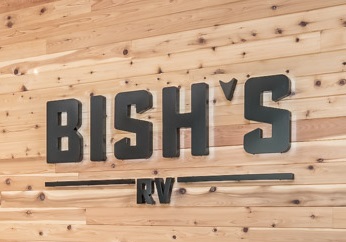 Guaranty Is Now Bish's RV
We're a family business, proudly serving our friends and neighbors for more than 30 years. We're excited to continue the legacy of Guaranty RV through Bish's RV. Read our story.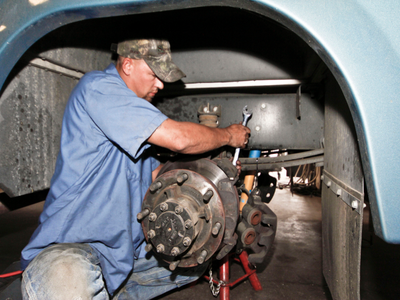 RV Service & Body Work
Award-winning and recommended by our manufacturers, our RV Service department stands out among the rest. We have 56 bays, an RV Body Repair Shop, and trained technicians to help keep you on the road.